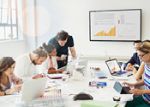 Keys to Designing a Digital Building

In order to leverage the future-focused capabilities of IoT within digital buildings, strategic planning is vital. Numerous options are available in building and system design, cabling infrastructure, port deployment, and zone cabling. However, there is no one-size-fits-all solution that will work for every system. Network designers, cabling installers, IT managers, and end-users must weigh the pros and cons of multiple network design and infrastructure options.


One option is to build your high-performance networks with Berk-Tek and Leviton, two of the most innovative, reliable, and service-oriented names in the industry. With the combined strength of Berk-Tek cable and Leviton connectivity, you get an unparalleled return on your infrastructure investment.