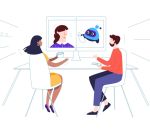 Voice AI Assistant Takes Notes at Meetings So You Don't Have To

Voicea, a California-based company, uses voice AI technology to turn talk into action. The company's Enterprise Voice Assistant (EVA) listens, takes notes, and automatically provides highlights, actions, and recaps so you can focus on the conversation. EVA increases productivity of in-person chats, meetings, conference calls, or video conferences.


"EVA provides a true safety net to any important conversation in the workplace and for that, we need to go well beyond transcription. We provide conversation highlights, follow up items, as well as searchable notes with synchronized audio," said Omar Tawakol, CEO of Voicea. "The ultimate goal is to allow people to focus and untether themselves from distracting devices and note-taking during conversations."