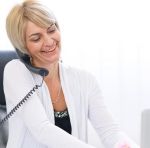 New Digital Phone Service Helping Business Stay Connected with Better Functionality, Lower Cost

P-VoIP from Crosswind VoIP has just been launched to help businesses jump into digital phone service. P-VoIP offers businesses of all sizes the opportunity to not only jump from landlines like they're a burning ship, it lets them swim over with confidence, knowing they'll soon have better functionality at a lower cost.


Kim Warren, CEO of Crosswind, explained, "While P-VoIP replaces the landline phone system, it's nowhere close to an even exchange. It's an impressive, robust system that doesn't require cabling or equipment upgrades." P-VoIP uses a business's existing equipment, including telephones, while changing the system to digital and running everything through the existing internet connection.