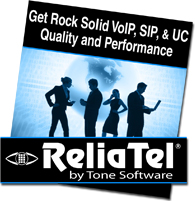 Get Rock Solid VoIP, SIP, and UC Quality and Performance – Learn How…
VoIP, SIP, and Unified Communications increase demands for voice quality and network performance. Without proactive management, you'll face tough QoS problems, inflated support costs, poor user adoption, and disappointing ROI.
Learn how to get rock solid VoIP QoS, SIP trunk quality, and UC network performance while also boosting service levels, reducing support costs, and squeezing the most from your technology investment...
Get the Rock Solid VoIP, SIP, and UC Quality and Service Levels You Need…