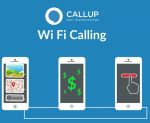 CALLUP Launches New Version of Wi-Fi Calling Solution

CALLUP, a provider of Value Added Services (VAS) and Mobile Device Management (MDM) solutions for the telecom industry, recently launched a new version of its Wi-Fi calling system at the Mobile World Congress. The new version enhances user's ability to use a Wi-Fi hotspot not only to make calls in buildings, but also while roaming.

CALLUP Wi-Fi Calling benefits both carriers and subscribers: In areas with no cellular coverage, carriers now have a seamless solution rather than installing expensive Femtocells, supporting customers' needs in both voice and data, and customers enjoy first class service. Roamers enjoy low cost or free calls, using seamlessly available Wi-Fi networks.